Picture the scene. You're a small business owner – perhaps you have a cafe or restaurant, or even a small company office. You have your coronavirus safety measures in place? Check. You have your interior set up with screens, visors, or other equipment necessary to keep your staff safe? Check.
But what about your outdoor spaces? Is there a garden that looks a little lacklustre, or a patio space out onto the street that you don't know what to do with?
Does this sound like you? Then keep reading.
Outdoor spaces are now very important real-estate – customers feel safer, have more space to socially distance, and can feel that little bit more relaxed outside than inside during the pandemic.
This article is intended for any business owners with outdoor spaces, who are looking to bring back the crowds they missed during the summer lockdown, and want to find a way to ensure their exterior is as comfortable and safe as possible for guests.

Inside Out
Outdoor seating doesn't need to be your typical uncomfortable plastic garden chair. Setting up an L-shaped sofa in an outside corner, where your guests can chat, and have a drink or a bite to eat, is a great way to allow your guests to relax on your business premises while also limiting the space to small group sizes.
An added benefit to having outdoor corner sofas placed in various areas of your outdoor patio area is that they will act as natural dividers. This, coupled with a one-way entrance and exit system, keeps a healthy flow of people moving to and from your premises (rather than causing any congestion points, which can be a royal pain for social distancing measures). Most outdoor furniture sets are also modular, so they are easy to assemble and disassemble, and can be moved easily by your staff for all circumstances.
Top tip: Throw on a couple of removable, waterproof cushions for your outdoor furniture.

Not only will this help improve your visitors' overall comfort, but this also means that they will be easier to clean (abiding by the new coronavirus guidelines for businesses that require frequent and thorough cleaning of your premises).

It also removes the need for having to source replacement cushions after each use.

All You Can Seat
Speaking of outdoor seating, it's important to think about what kind of activities your business is willing to offer outside your establishment. A restaurant is pretty self-explanatory – you'll most likely want a mix of seating for larger or smaller parties (if you're looking for a bit more inspiration on this topic, we have a blog post all about perfect restaurant dining layouts just for you).
But what if your business is slightly different? Say, you want a comfortable outdoor space in your office building where people can relax on their lunch break, or perhaps you run a small events space or outdoor exhibition. Then, you'll need to think carefully about what you would need in order to make sure that visitors are as comfortable as possible.
Would you need a couple of bar tables with high stools, or would it work better to have outdoor benches and tables?
Would you require something hardier to face the outdoors, like a contemporary concrete outdoor furniture set, or could you get away with natural bamboo seating or even waterproof outdoor beanbags if you're based somewhere a little more sheltered?
These are all useful questions to ask yourself when you're kitting out your outdoor seating area!

Colour Is Key
Grab your visitors' attention with a pop of colour for some extra wow factor. The easiest way to catch their eye is through using bright colours like red, yellow or blue to stand out from the rest of the street – even using your company or brand colours to tie your design together without looking too out-of-place.
Top tip: You don't have to break the budget for this option. While quirky, colourful polypropylene furniture is waterproof and resistant to all outdoor weather, you might consider using some outdoor furniture paint on any wooden dining chairs you have already.

Not only does this freshen up any tired-looking furniture, it will provide a more fun vibe to help entice more customers or guests to sit outside.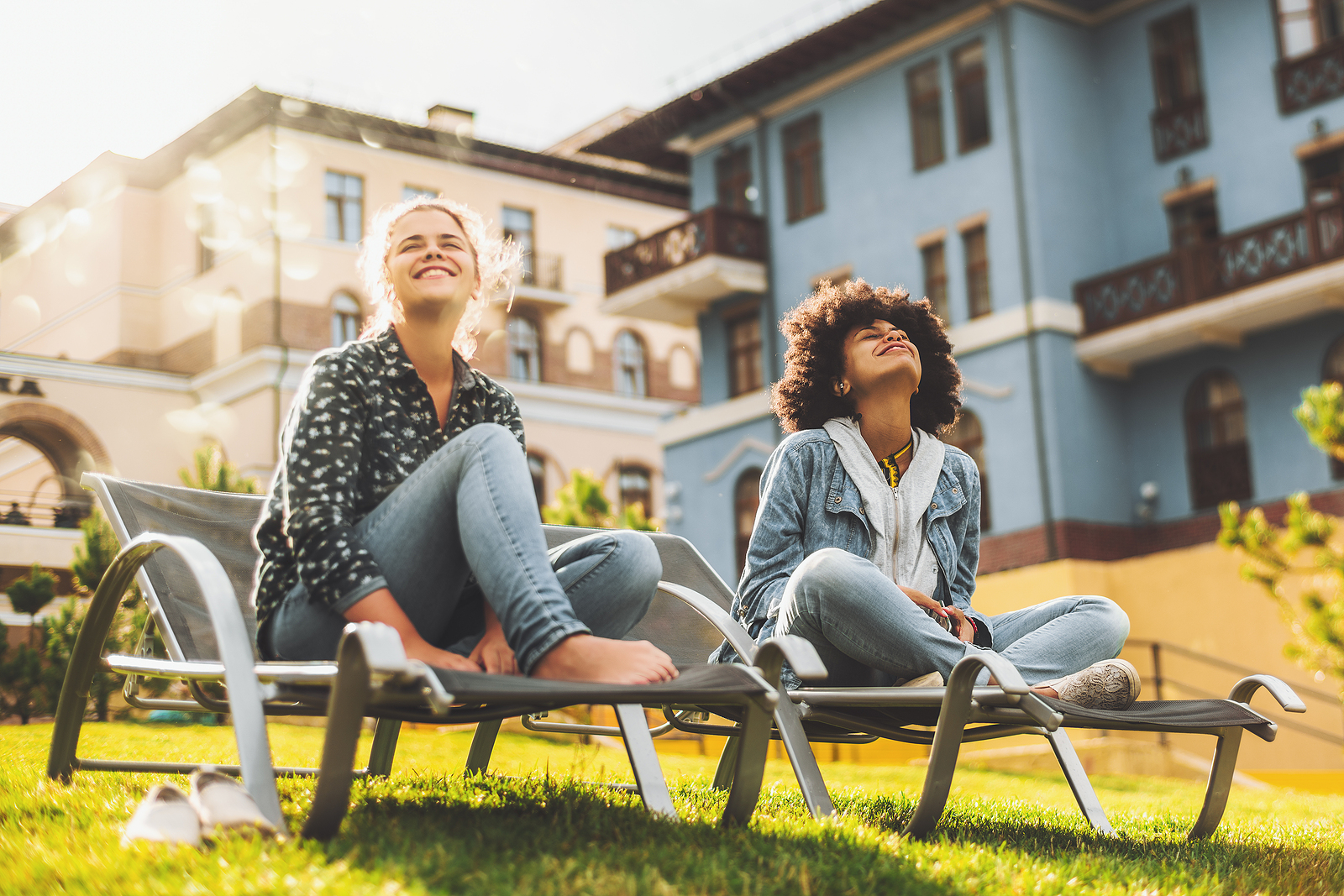 Set Up For Sunshine… 
While the majority of summer has passed us by already, that doesn't mean that the sunseekers have moved on! With the coronavirus confining many people inside for months on end, the warm autumn afternoons provide the perfect opportunity to soak up some rays, and catch up on that long-awaited sunbathing.
Invest in some outdoor lounge furniture, such as reclining chairs, in your exterior space (particularly if your business is lucky enough to have an outdoor lawn or pool), and some parasols to provide shade and keep out of the sunlight.
Remember – the more comfortable your visitors are, the more likely they are to stay and use your business.

…AND Keep Warm
Eventually when the long nights start to creep in, you will have to get a little more clever in enticing your guests to stay and sit outside. Rather than providing blankets (which will need washing between each use according to new coronavirus guidelines), or expensive patio heaters, why not invest in a fire pit?
Not only do fire pits look dramatic and make a statement in your outdoor space, you can even choose different sizes for different events. For instance, some fire pits come with an optional grill attachment, which is perfect for catering to larger events such as business parties or even small weddings.
Top tip: For an extra flourish and to impress your guests (and be the envy of all other establishments), a fire table is the perfect mix of a fire pit with a dining table. While it may not be suitable for every business occasion, your visitors will certainly applaud your dramatic flare!