Here at JB Commercial Furniture, we are thrilled to unveil our latest collection of exquisite commercial sofa beds, proudly manufactured in the UK. These beautifully crafted pieces combine style and functionality, making them the perfect addition to any modern commercial living space. 
They are available in three CRIB5 materials, meaning they meet the most stringent UK fire prevention regulations, as standard: Marna Weave (included in the item price), Luxe Velvet or Aston Faux leather (for a small extra cost). We can also upholster in any CRIB5 material of your choice to create your dream commercial sofa bed unique to your space!
Not only that, but our sofa beds also come with a standard sprung mattress, which can be upgraded to a Silentnight luxury mattress for an unparalleled sleeping experience. With various mattress sizes to choose from, accommodating guests of all sizes has never been easier.
Exquisite Materials for Your Ideal Aesthetic
Our commercial sofa beds are meticulously designed with your comfort and style in mind. Each material option offers a distinct character, allowing you to find the perfect match for your interior décor.
Marna Weave 
Included in the item price, our woven material delivers a timeless appeal with its natural texture. It exudes a sense of cosiness, making it an excellent choice for creating a warm and inviting ambience.
Luxe Velvet
If you're looking to add a touch of opulence to your space, velvet is the perfect choice. The lush texture and rich colours exude luxury and sophistication, instantly elevating any room.
Aston Faux Leather
For those who appreciate a modern and chic look, our faux leather sofa bed delivers in both style and practicality. Its sleek finish and durability make it a fantastic option for busy hotels and lodges.
The Ultimate in Comfort: Choose Your Mattress
At the heart of our commercial sofa beds lies a comfortable and supportive mattress on wooden slats. The standard sprung mattress provides a restful night's sleep, ensuring your guests awake feeling well-rested and rejuvenated. But for those seeking the epitome of luxury, our Silentnight upgrade option promises an unparalleled sleep experience.
Standard Sprung Mattress 
As standard, our sofa beds come equipped with a standard sprung mattress, carefully designed to deliver comfort without compromise. Its quality construction ensures even weight distribution, alleviating pressure points for a blissful night's rest. It is 1800mm long and   features pocket springs, layers of foam and is then tufted to create a soft sleeping platform
Silentnight Luxury Mattress Upgrade 
Elevate your sleep experience with our Silentnight luxury mattress upgrade. Renowned for their exceptional craftsmanship, Silentnight mattresses boast superior support and conforming comfort, making every night a dreamy affair. At 1930mm long with a quilted topper, this option offers unrivalled comfort that your guests will keep coming back for.
Both mattresses are BS7177:2008 flammability rated, helping you sleep soundly knowing that your new commercial sofa bed meets the highest safety standards. 
Versatile Mattress Sizes for Every Need
We understand that every space is unique, and having the ability to accommodate all guests and their individual needs is vital. That's why our commercial sofa beds come in various mattress sizes, catering to a diverse range of spatial requirements.
730mm wide mattress
Perfect for smaller rooms, the 730mm size mattress provides ample space for a comfortable night's sleep while saving on floor space.
1130mm wide mattress
Ideal for individuals who prefer the extra room to stretch out, our 1130mm size mattress strikes the perfect balance between space and comfort.
1330mm wide mattress
Ideal for couples who enjoy that extra room together, our 1330mm size mattress is perfect for any guest.
1530mm wide mattress
If you have ample space and desire maximum luxury for your guests, our 1530mm size mattress offers unparalleled sleeping space and comfort.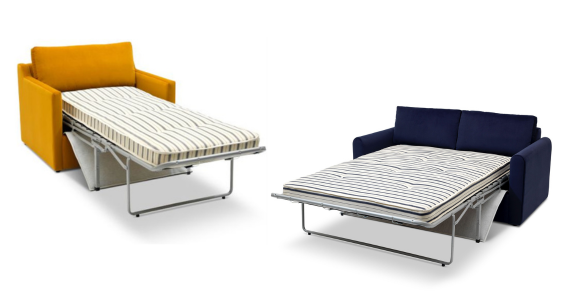 What's special about our new commercial sofa bed range?
Our new UK-made sofa bed range is a testament to our commitment to delivering exceptional quality, comfort, and style to our valued customers. With three luxurious materials to choose from, plus the option to customise it with a bespoke material selection and the ability to upgrade to a Silentnight luxury mattress, these sofa beds provide the perfect blend of elegance and functionality. Whether you need a compact solution for a cosy room or a spacious retreat for your guests, we have the ideal commercial sofa bed to suit your needs.
Whether you're looking to revamp your hotel's family rooms or add a restful place to spend the night and elevate any multi-purpose space, we invite you to achieve it with our premium commercial sofa beds and create an environment where your guests can unwind in style and comfort.
Don't miss out on this opportunity to redefine your living space with the epitome of luxury sofa beds. Experience the ultimate in comfort, style, and convenience with our UK-made commercial sofa bed range today!